This is the first post in our upcoming and ongoing series "A Perfect Weekend" which spotlights our favorite activities, restaurants, and more over the course of a day in one of our destinations.
People may think of ski bunnies and powder hounds when they think of Vail, but visitors are learning what locals have kept an open secret for a long time: the summer is even better! There's activities for everyone whether you're more of an adrenaline junkie, or someone who finds hunting out the perfect cocktail and lounge seat as their idea of exciting. Here's our perfect Saturday in this legendary ski town.
Saturday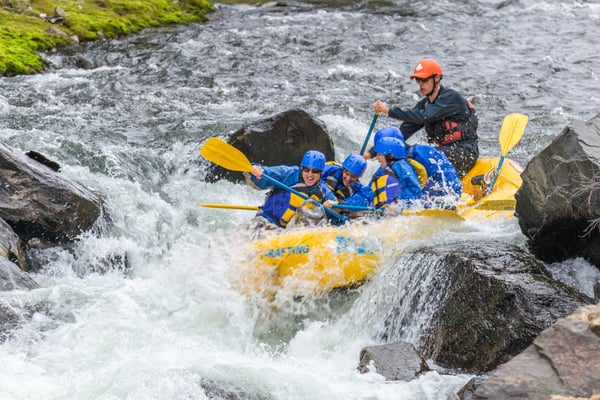 8AM - Time to get out the door! Head to Sage Outdoor Adventures for a half-day whitewater rafting trip to do some of the wettest and most adrenaline-pumping sightseeing of your life! Sage has our favorite guides and makes the experience fun and safe. If that sounds like a little to much excitement first thing in the morning, we recommend their beautiful horseback riding tour as well. Grab breakfast from Northside Grab 'N Go on your way to the river, they have a great breakfast burrito but our favorite is the English muffin sandwich - they bake all their own bread and it's delicious!
Noon - After all that excitement, you've probably worked up an appetite. If you need to eat NOW we recommend heading to Vendetta's Pizza in town and grabbing a quick slice of the best pizza in town. If you've looking for a more leisurely lunch, get a table at The White Bison and enjoy a fabulous lunch overlooking Gore Creek. If you're feeling cheeky, don't miss their frosé. Spend the rest of the afternoon enjoying the adorable shops around town, including Wild Bill's for some fun souvenirs, or the Golden Bear if your idea of a souvenir is a bit more sparkly.
4 PM - Vail's evening scene relies heavily on live music, and nobody does it better than Phil Long at the Vail Chophouse. He's set apart by a great repartee with his audience, a fun collection of songs, and a great stable of guest artists who always add a special twist. Join in on trying to throw a balled-up dollar into the tip jar, if you make it, free shots for your table! Kids are often delighted to be tasked with handing out candy. Chophouse's menu is nothing to sniff at either, they keep it upscale but casual enough for the festive atmosphere. Phil plays on Saturdays from 4-7, as well as other evenings during the week.
8 PM - One more stop before bed? Or maybe a night out? Depends on your energy level. If you're looking for one perfect cocktail, head to Root and Flower. This tiny cocktail bar was founded by two Vail restaurant veterans, and they pour their hearts into every drink. The staff here cares about executing something you love to perfection, and is happy to recommend something from their extensive list. Overwhelmed? Their gin and tonic features a homemade tonic blend and is a perennial crowd-pleaser.
If you want to get a little rowdier, we recommend heading over to The Red Lion. This Vail institution offers live music or a dance party (or both at once) depending on what time you get here, and is always packed with locals and visitors alike looking to have a great time.
Got the kids with you? Your idea of the perfect nightcap may be a sweet treat instead of a cocktail. Stop by Fuzziwig's for a huge selection. You may just feel like a kid again yourself!