Among those with a serious thirst for travel, a trip to the Galapagos Islands is the adventure of a lifetime. The volcanic islands off the coast of Ecuador are home to numerous rare plant and animal species, many of which do not exist anywhere else on earth. In the span of one day, Galapagos Islands visitors can walk among giant tortoises, snorkel with penguins, lounge with sea lions, and view flightless birds.
Take the luxury route to get their on the 20-passenger yacht, Infinity. Specifically designed for Galapagos cruises, this opulent yacht features beautiful decks and a lounge for sunbathing an socializing, beautiful staterooms with private balconies, and high-end amenities and furnishings. Take in the views while you soak in the hot tub, or put on your snorkeling mask to check out the underwater life while the you're moored.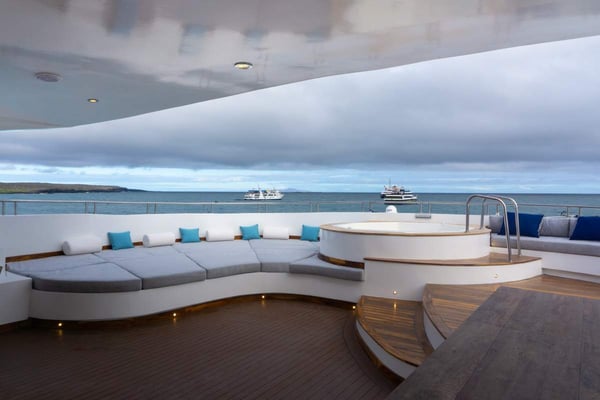 With so much to experience, it can be overwhelming to choose a Galapagos Islands trip. A cruise is a fantastic option for travelers who love the water and want to visit the uninhabited outlying islands. These tours are designed for those with a discerning taste for both luxuries and adventure travel, with top-notch accommodations, food, and service that are on par with a 5-star hotel.
Here's a highlight of just some of the excursions visitors will experience on this luxury cruise.
Black Turtle Cove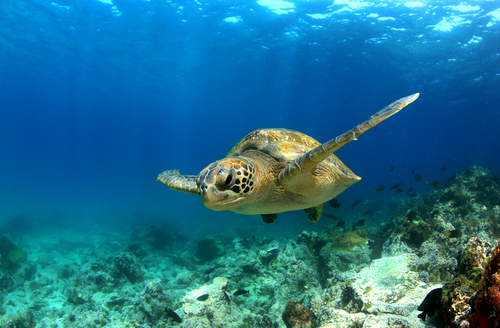 Located on Santa Cruz Island and part of the protected Galapagos National Park, Black Turtle Cove is accessible only by a panga, a small boat. The cove remains virtually untouched by man and serves as a sanctuary for rare marine animals and plants, including mangroves, rays, sharks, and pelicans. Because of its remoteness, endangered green sea turtles mate here every winter.
Snorkeling at Sullivan Bay & Rabida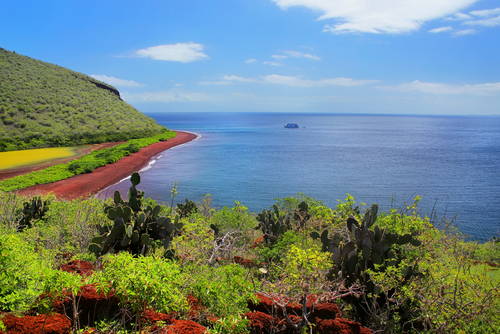 Santiago Island and neighboring Rabida Island are uninhabited and can only be accessed with a National Park guide. Sullivan Bay on Santiago Island is a premium snorkeling site with crystal clear water, where visitors are likely to encounter penguins, green sea turtles, silvertip sharks, and countless tropical fish species. The smaller Rabida Island is renowned for its striking red sand beach and large population of sea lions.
Santa Cruz Island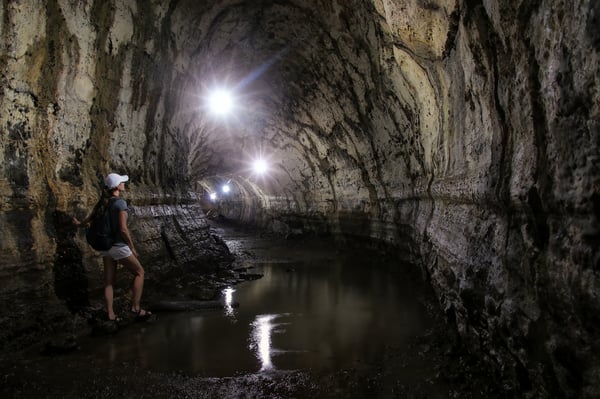 The most developed of all the Galapagos Islands, Santa Cruz Island offers endless activities. In addition to shopping, restaurants, and art galleries, there is also the El Chato Tortoise Reserve, lava tunnels made of solidified molten lava, and Tortuga Bay Beach. Cerro Dragon, "Dragon Hill," with its large population of wild iguanas, is another highlight, as is Bachas Beach, home to flamingos and crabs and serving as a sea turtle nesting site.
Post Office Bay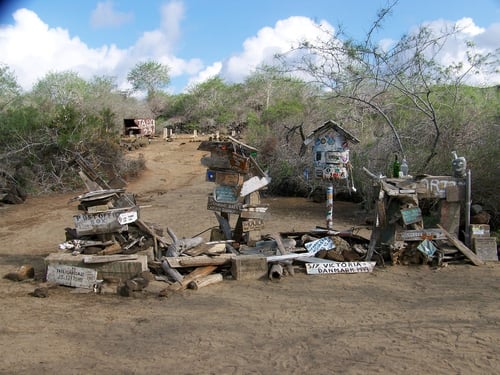 Floreana Island has the world's most unusual post office. The historic "post office" was originally used in the 1700s by whalers headed out to sea. They would drop letters in a barrel and sailors returning home would pick them up and hand-deliver them. No postage was used, simply the honor system, and the post office is still in use today. Visitors check the mail and take any letters with destinations near their homes to deliver them.
Walk Espanola Island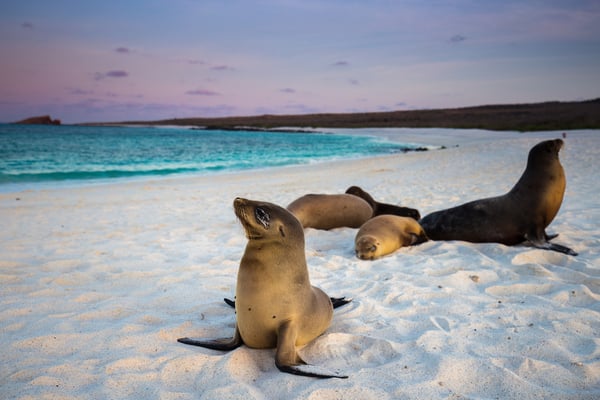 The southernmost island in the archipelago, Espanola Island is home to a spectacular hiking trail. This pristine island is home to endemic colorful red and green "Christmas iguanas" and the extremely rare waved albatross, a large bird that isn't found anywhere else in the world. Near Punta Suarez is Blowhole Cliffs, where waves crash into a lava fissure, creating a blowhole that sprays nearly 100 feet in the air at high tide. In summer months, visitors may see humpback whales off the coast.
Itineraries
Itinerary (6-Day Itinerary (Mon - Sat))
Day 1: Arrive Quito or Guayaquil
Day 2: Quito or Guayaquil – Baltra - Santa Cruz (Black Turtle Cove)
Day 3: Genovesa (Prince Philip's Steps, Darwin Bay)
Day 4: Santiago (Sullivan Bay) - Rabida
Day 5: Santa Cruz (Darwin Station) - Baltra - Quito or Guayaquil
Day 6: Quito or Guayaquil - Home
Itinerary (7-Day Itinerary (Thu - Wed))
Day 1: Arrive Quito or Guayaquil
Day 2: Quito or Guayaquil – Baltra – Santa Cruz (Highlands)
Day 3: Santa Cruz (Cerro Dragon, Bachas)
Day 4: Floreana (Post Office Bay, Punta Cormorant)
Day 5: Espanola (Punta Suarez, Gardner Bay)
Day 6: San Cristobal (Interpretation Center) - Quito or Guayaquil
Day 7: Quito or Guayaquil - Home
Itinerary (10-Day Itinerary A (Mon - Wed))
Day 1: Arrive Quito or Guayaquil
Day 2: Quito or Guayaquil – Baltra - Santa Cruz (Black Turtle Cove)
Day 3: Genovesa (Prince Philip's Steps, Darwin's Bay)
Day 4: Santiago (Sullivan Bay) - Rabida
Day 5: Santa Cruz (Darwin Station, Highlands)
Day 6: Santa Cruz (Cerro Dragon, Bachas)
Day 7: Floreana (Post Office Bay, Punta Cormorant)
Day 8: Espanola (Punta Suarez, Gardner Bay)
Day 9: San Cristobal (Interpretation Center) - Quito or Guayaquil
Day 10: Quito or Guayaquil - Home
Itinerary (10-Day Itinerary B (Mon - Wed))
Day 1: Arrive Quito or Guayaquil
Day 2: Quito or Guayaquil – San Cristobal (Breeding Center)
Day 3: Santa Fe – S Plaza
Day 4: Santa Cruz (Darwin Station, Los Gemelos)
Day 5: Isabela (Punta Moreno, Elizabeth Bay)
Day 6: Isabela (Urbina Bay, Tagus Cove)
Day 7: Fernandina (Punta Espinosa) - Isabela (Punta Vicente Roca)
Day 8: Santiago (Puerto Egas) - Bartolome
Day 9: N. Seymour - Baltra - Quito or Guayaquil
Day 10: Quito or Guayaquil - Home
For questions and to book your Galapagos Adventure, please give us a call at:
800-210-5566 ext 7
or contact us here